What is Paragraph 80? How this planning law could help you get planning permission on your plot
Paragraph 80 could be your way to gaining planning permission on Green Belt land, and here we explain how it is the best way to go about getting it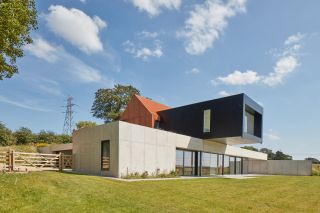 (Image credit: Andy Haslam)
Paragraph 80 in the National Planning Policy Framework (NPPF) is crucial for those looking to build in Green Belt areas.
If your dream project requires countryside planning permission then knowing the rules around how to design plans to meet Paragraph 80 conditions can be rather useful. And while, this section is devoted to granting applications in countryside locations, meeting the conditions for this is notoriously difficult.
Here we explain what Paragraph 80 is as well as the requirements needing to be satisfied in a planning application — plus some examples of projects that have succeeded under Paragraph 80.
What is Paragraph 80?
Paragraph 80, or 'Para 80', refers to the condition outlined in criterion (e) paragraph 80 within the National Planning Policy Framework (NPPF).
This condition grants permission for the construction of new isolated homes in rural areas. In contrast to the overall guidelines that discourage the expansion of residential structures in the countryside, the NPPF permits the development of such homes if they exhibit exceptional design quality.
This policy acknowledges the prevailing situation where new housing, despite efforts to enhance its design, tends to be unremarkable, lacking uniqueness, and disregarding environmental factors.
Under paragraph 80 (e) of the the NPPF (2021) it is stated planning permission may be granted if:
It is truly outstanding, reflecting the highest standards in architecture, and would help to raise standards of design more generally in rural areas; and...
Would significantly enhance its immediate setting, and be sensitive to the defining characteristics of the local area.
How to get your project to qualify for Paragraph 80?
To some, it might seem that gaining planning under Paragraph 80 might be simple, but this couldn't be further from the truth.
The NPPF documents say the design must be of "exceptional quality," "reflect the highest standards in architecture," and be "truly outstanding," but then give no further details of how to achieve this.
Robert Hughes of Hughes Town Planning Consultants say they have helped 21 projects get planning permission under Paragraph 80 parameters.
Hughes says the best way to be successful in your application is to "get advice early on" in the application and that picking the right plot is crucial.
"The landscape is as important as the design itself," Hughes says. "Not every site is suitable" to gain planning permission under Paragraph 80 with some areas being extremely unlikely, regardless of the design, to gain planning.
Areas such as SSSI sites, heritage sites, conservation areas or other protected areas are unlikely to gain planning as enhancing these landscapes with a property, which is outlined in Paragraph 80 conditions, is difficult.
Therefore, Hughes advises to first gain an appraisal for your project before getting a tailored design team to work with you on your design. He then suggests seeking the advice of an ecologist, drainage experts, tree experts, and any other experts that affect your site's environment, as well as a landscape architect. This will get you the advice you need to limit the impact on the surrounding environment and to give you the best chance of succeeding in your project.
You should then go to an independent design review panel who will critique the design and suggest changes before you then submit your plans to the council, but Hughes advises to show in your application how you arrived at the design you chose to justify why it will add to the surrounding landscape.
Paragraph 80 projects that have succeeded
If you are looking to gain planning permission under Paragraph 80, it's worth doing your research and taking a good look at some existing projects that were granted under Paragraph 80.
For instance, this barn-like self build in Crowland, Lincolnshire (see images below) was able to gain planning permission after initially having their application rejected.
The house was built using local stone so that planners could approve the mortar choice. The cladding, both timber and zinc-effect steel, alongside the aluminium windows and MVHR system, were all specified under the planning proposal too.
Image 1 of 5
Meanwhile, in the Cotswolds Area of Outstanding Natural Beauty (AONB), Underhill House, pictured below, boasts several notable accomplishments.
Most notably, it holds the distinction of being the first Passivhaus certified in England, a title it earned in 2010.
Seymour Smith Architects successfully obtained planning permission for this property under PPS7, which eventually evolved into Paragraph 80 of the regulations.
Image 1 of 2
And finally, Central Bedfordshire Council recently granted permission for a four bedroom, self build Passivhaus to be built under Paragraph 80 in Dagnall, Berkhamsted.
Granting permission, the delegated officer for Central Bedfordshire Council said: "The proposed dwelling would be sympathetic to the site surroundings and present a high-quality development, incorporating natural materials.
"As such the development would improve the character of the area and the setting of the open countryside and would reinforce local distinctiveness and the outstanding natural beauty of the area."
Image 1 of 4
Get the Homebuilding & Renovating Newsletter
Bring your dream home to life with expert advice, how-to guides and design inspiration, direct to your inbox.
News Editor Joseph has previously written for Today's Media and Chambers & Partners, focusing on news for conveyancers and industry professionals. Joseph has just started his own self build project, building his own home on his family's farm with planning permission for a timber frame, three-bedroom house in a one-acre field. The foundation work has already begun and he hopes to have the home built in the next year. Prior to this he renovated his family's home as well as doing several DIY projects, including installing a shower, building sheds, and livestock fences and shelters for the farm's animals. Outside of homebuilding, Joseph loves rugby and has written for Rugby World, the world's largest rugby magazine.
Get the Homebuilding & Renovating Newsletter
Bring your dream home to life with expert advice, how-to guides and design inspiration, direct to your inbox.
Thank you for signing up to Homebuilding. You will receive a verification email shortly.
There was a problem. Please refresh the page and try again.