145,000 builds blocked due to nutrient neutrality laws, according to trade body
Nutrient neutrality laws are being used to block homebuilding in 74 local authorities, with the HBF claiming the number of new homes being built could drop to 120,000 annually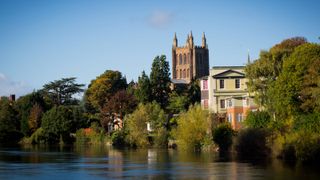 (Image credit: Getty Images)
Nutrient neutrality laws are blocking the building of 145,000 homes, according to the Home Builders Federation (HBF).
The house-building industry's trade body criticises the government's plans to weaken planning rules with the recently released Housing Pipeline report revealing a record low number of planning applications approved in Q1 of 2023.
Thousands of self build projects are estimated to be stuck in planning limbo due to pollution in rivers, leading to planning delays and obstacles while councils strive to restore nutrient neutrality in rivers.
The HBF warns of significant consequences if the issue of nutrient neutrality is not addressed, such as new home construction being halved to around 120,000 annually.
What is nutrient neutrality?
Nutrient neutrality is the demonstration of zero additional nutrient contribution to rivers, estuaries and wetlands - in other words showing that a proposed development won't add to the current nutrient load, or may even reduce it.
Excess nutrients typically come from agriculture and sewage treatment works, and while they can come from private treatment plants, a January 2022 report from the Environmental Audit Committee (EAC) did not identify homebuilding as a major contributor.
If these nutrient levels are too high, then an area might be deemed by Natural England to be unsuitable for development because excess nutrients can cause seasonal algae bloom, which restricts the growth, distribution and variety of food and oxygen for the complex network of river ecology.
This is especially pertinent in Special Areas of Conservation (SACs), which are protected by European Habitats Directives.
How serious is nutrient neutrality?
Growing fears over river pollution in the UK led the EAC to warn in January, 2022, that a "chemical cocktail of sewage, agricultural waste and plastic" was impacting our rivers.
Natural England first advised some councils with failing SACs in 2019 to prevent housing schemes which were not able to demonstrate nutrient neutrality. Since then housebuilding in some catchment regions has been on hold due to high nutrients in the soil and water.
And in March, 2022, Natural England advised another 42 local authorities that development in some catchments cannot go ahead unless they are nutrient neutral – meaning an estimated 145,000 homes are now being delayed across 74 local authorities because of the issue, according to the Home Builders Federation (HBF).
Housing Pipeline report reveals declining number of planning permissions granted
The house-building industry's trade body attributes the government's plans to weaken planning rules to the influence of the "nimby wing of the Conservative party".
The Housing Pipeline report has recently been released highlighting the continued decline in the approval of planning permissions as in Q1 2023, the number of housing projects granted planning permission reached a historically low quarterly figure of 3,037. This reflects a 20% decrease compared to the previous year and an 11% drop from the final quarter of 2022.
Notably, the number of approved projects in 2022 was already at its lowest level since the dataset's inception in 2006. This is despite Natural England's own admission that the risk posed by new homes is minimal.
HBF executive chairman Stewart Baseley said: "Despite the fact we face an acute housing crisis, the government's policy approach continues to drive housing supply down. There is now clear evidence that planning permissions are plummeting, a direct result of the Government's capitulation to the NIMBY lobby on planning.
"Over the last four years ministers have failed to intervene on Natural England's disproportionate ban on new homes, which disregards the findings of government's own evidence and represents a major misdirection of effort and resources.
"Whilst ministers prevaricate, housing supply is tumbling and the consequences are becoming ever clearer for young people in need of decent housing and builders' jobs."
The HBF also claims that if left unaddressed, the government's planning approach and nutrient neutrality policies may result in a significant decrease in housing supply, potentially halving the number of new homes to around 120,000 annually.
Nutrient calculators introduced to tackle the issue
In an attempt to address this issue the government has developed catchment-specific nutrient calculators that enable developers to calculate the precise amount of mitigation required to meet local needs before they decide to build their own home.
This helps them make informed decisions about their construction projects and ensures that they comply with environmental regulations.
Additionally, the government has increased the capacity of Natural England to provide advice and support on assessing mitigation project suitability. This support helps developers to ensure that their projects are environmentally sustainable and comply with regulations.
By hiring dedicated nutrients advisors for local planning authorities, the government is helping to share best practices and provide advice to local authorities and developers to make sure they are informed about the most effective methods of mitigating the impact of construction on local ecosystems.
The government has also announced Wetland permitting guidance will be issued by the Environment Agency, and the DLUHC will clarify planning practice guidance in response to feedback from local planning authorities and developers.
All these initiatives will be rolled out by the end of May 2023. You can read the government nutrient planning document on the gov.uk website here.
What is the government's plan for nutrient neutrality?
The Spring Budget has aimed to address the issue of nutrient neutrality, which the government considers a major obstacle to meeting their target of building 300,000 homes annually.
The Budget report highlights this challenge and introduces incentives for landowners, including consultation on the taxation of ecological mitigation schemes to encourage their implementation.
To address the issue of nutrient neutrality, Natural England has quickly launched a nutrient mitigation scheme backed by £30 million from Defra and Department for Levelling Up, Housing and Communities (DLUHC).
The scheme allows housebuilders to purchase "nutrient credits" to meet their nutrient mitigation obligations and obtain planning permission from local authorities.
The initiative is expected to support the construction of new homes while also creating wetland and woodland habitats.
Collaboration between government departments and local planning authorities has led to the development of this scheme, with feasibility studies ongoing in other catchments to identify potential sites for future initiatives.
While the scheme will be open in the autumn to all developments, the government says that priority will be given to smaller builders who are most affected, which could pave the way for self builders caught in planning limbo to press ahead with their projects.
The HBF said the proposals "do not match the scale or urgency of the issue", but Merry Albright, creative director of Border Oak and co-chair of the Herefordshire Construction Industry Lobby Group (HCILG), was "relieved" at the announcement.
"The announcement came as an unexpected surprise but seems to mark a long awaited, radically altered, central approach from the government regarding nutrient pollution and the devastating impact upon housing and communities," she said.
"I was delighted to hear the government publicly acknowledged that housing, specifically small and medium providers (and this includes self and custom build), had been disproportionately impacted and wasn't at fault. I was equally relieved to note that finding lasting solutions at scale and with speed for housing was their primary objective."
Which areas have been affected?
Restrictions on constructing new homes have expanded to encompass more than a quarter of England's local authority areas since June 2019, when nutrient neutrality was first introduced.
This development has impacted approximately 145,000 homes across 74 local authority areas, stretching from Cornwall to the Tees Valley. Additionally, it is projected that an additional 41,000 homes will not be constructed annually until viable solutions are identified.
Failure to evidence nutrient neutrality has influenced new homebuilding in areas including Herefordshire's River Wye and the Lugg, the Solent region, South Somerset and Hampshire.
Herefordshire Council imposed a moratorium on housing development in 2019, covering around 40% of the county, because of phosphate contamination in the River Lugg catchment, and this has resulted in around 1,650 unbuilt houses being caught by the ban.
The HCILG estimated that around half of the frozen applications are potential self and custom build plots.
The issue has also affected Powys which borders Herefordshire, but is also part of the Wye SAC. In both Powys and Herefordshire the density and number of intensive poultry farms in the catchment has been linked to the deterioration of rivers including the Wye.
Elsewhere, nutrient pollution in the River Solent has led to Somerset (which has around 11,000 homes delayed in a backlog), Hampshire (around 16,000) and Kent all since being placed under planning restrictions.
What can self builders do?
Concerns over nutrient neutrality have left self builders "virtually powerless" when it comes to building their home, Albright says.
Even self builders who already had planning permission to build on their plots haven't been able to break ground in areas where housing development has been shut down.
"For those who've already bought their plots, they're stuck - especially if the planning permission has run out, and it's not a given that they're going to get planning permission again," said Albright.
Self building in Herefordshire has been restricted for more than three years, and even some schemes with planning permission have been impacted because drainage proposals or changes to an approved scheme must show nutrient neutrality using a very tough set of criteria - or by applying a complex set of calculations and offering mitigation or betterment (which is very hard to do on small schemes).
To ease the backlog of home applications, regions such as South Hampshire and the Isle of Wight have previously introduced nitrogen credit schemes, and in May Herefordshire Council published its phosphate credit proposal which will be available to self builders.
However, the combined cost of the credits (£14,000 + VAT per kilogram of offset required per year) together with the required phosphate assessment, legal work, nutrient consultant specialist and draining engineer specialist could add up to around £10,000 per rural dwelling, according to Albright.
"I'm a little worried about the cost of the offsetting credits and the remaining technical hurdles that the team at Herefordshire Council need to overcome to meet Natural England's expectations of certainty," she said.
"But I appreciate the huge amount of complex work that has been put in to finding a way to enable house building to resume after a crippling hiatus that has had a huge impact upon the county and communities."
Get the Homebuilding & Renovating Newsletter
Bring your dream home to life with expert advice, how-to guides and design inspiration, direct to your inbox.
News Editor Joseph has previously written for Today's Media and Chambers & Partners, focusing on news for conveyancers and industry professionals. Joseph has just started his own self build project, building his own home on his family's farm with planning permission for a timber frame, three-bedroom house in a one-acre field. The foundation work has already begun and he hopes to have the home built in the next year. Prior to this he renovated his family's home as well as doing several DIY projects, including installing a shower, building sheds, and livestock fences and shelters for the farm's animals. Outside of homebuilding, Joseph loves rugby and has written for Rugby World, the world's largest rugby magazine.
Get the Homebuilding & Renovating Newsletter
Bring your dream home to life with expert advice, how-to guides and design inspiration, direct to your inbox.
Thank you for signing up to Homebuilding. You will receive a verification email shortly.
There was a problem. Please refresh the page and try again.