Why my Mountfield lawn mower is still a cut above the rest after 10 years
I don't know where I'd be without my trusty decade-old petrol lawn mower — and you could get your hands on some great Mountfield deals this Amazon Prime Day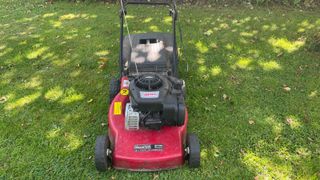 (Image credit: Future/Natasha Brinsmead)
Just the other day, our Mountfield lawn mower celebrated its tenth birthday — something a very random 'memory' on my phone alerted me to.
While we admittedly didn't go so far as to throw a party for it, it did make me realise just how worthwhile an investment it had turned out to be — one of those everyday necessities that you kind of take for granted until they give up the ghost. Except this one hasn't — it continues to do just as good a job today as it did on our garden all those years ago and is hands down one of the best petrol lawn mowers around in this price bracket, in my view.
While renovating our house, we relied on our garden as somewhere to retreat when the mess and disruption inside got a little too much. Now it is used, variously, as a rugby pitch, netball court, teenage campsite and sociable entertaining space, as well as being planted with a couple of flowerbeds for a bit of colour.
Our model of lawn mower is the Mountfield SP185 Self Propelled Briggs & Stratton 300 Series Lawnmower, which has since been upgraded to the Mountfield SPF185 46cm 139CC self-propelled rotary petrol lawn mower available from Screwfix.
In addition, Mountfield has also launched the HP41 Petrol Lawnmower, currently on offer at Amazon for just £179.99, which also gets rave reviews.
A little bit about our garden
In order to explain why I like this mower such much, it will probably be useful to give you a little context in terms of how we use it and what our garden is like.
Our back garden measures around 33m x 9m (300m2) and is ever so slightly sloping. It is a little bumpy in places and features two large apple trees, a raised deck, a shed, two long, narrow flowerbeds and a sunken patio at the house end — all of which the lawn mower has to navigate around.
During the summer months we find we need to mow weekly, mainly due to the large number of daisies and clover that seem to sprout up as soon as we turn our backs.
Why I love this lawn mower so much
Its reliability aside, there are many other reasons behind why I'd never hesitate to recommend this mower (or its updates) to others. Its main benefits are:
Although heavier than battery or electric-powered lawn mowers, the fact that it is self-propelled means even my twelve year old daughter can mow the lawn (much to her delight...)
Unlike some mowers I have owned, the pull cord of this one is smooth and easy to operate — even with cold hands
Its 45cm cutting width makes short work of the weekly mow
It is easy to change the cutting height (of which there are 5)
It comes complete with a very generous 60-litre collection bag meaning you don't have to keep emptying it
The handlebars fold up when not in use which is handy in our already packed shed
Things I would probably change about the mower
Of course nothing is perfect and there are one or two niggles I have with this machine.
Firstly, despite being lightweight for a petrol mower (it weighs 25kg), it is considerably more unwieldly than the neat little battery-operated lawn mower I use to cut my Mum's grass. That said, I don't have to change the battery and the grass collection bag is far bigger.
Secondly, I do find it hard to get the areas of grass within a couple of centimetres of the deck and around the shed, so I have to go around these with shears afterwards.
Those minor cons aside, however, I would definitely buy the upgraded model should my old friend ever decide to retire.
Best lawn mower deals this Amazon Prime Day
Amazon Prime Day this year runs from11th-12th July and is a deal event just for Prime members. We take a look at some of the best lawn mower deals currently on offer.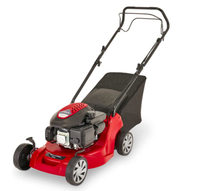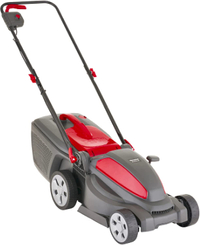 Mountfield Electress 38 Lawnmower £157.00 NOW £114.99 save 27% on Amazon
Offering a 38cm cutting width, this mower has a lightweight chassis for manoeuvrability and six cutting height positions from 25-75 mm.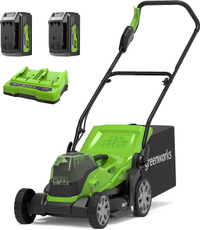 Greenworks G24X2LM36K4X Cordless Lawn Mower £299.00 NOW £1234.99 save 22% on Amazon
Perfect for medium-sized lawns (up to 420m²) this easy-to-handle lawn mower has a 36cm cutting width and 40L grass collection bag.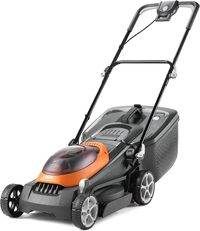 Flymo 36V UltraStore 380R Cordless Lawnmower £249.99 NOW £211.10 save 16% on Amazon
This neat little mower can handle a 230m2 garden on a single charge and is designed to allow close cutting up against decking and beds.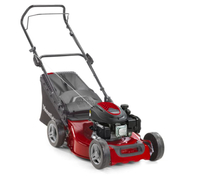 Get the Homebuilding & Renovating Newsletter
Bring your dream home to life with expert advice, how-to guides and design inspiration, direct to your inbox.
Natasha is Homebuilding & Renovating's Associate Editor and has been a member of the team for over two decades. An experienced journalist and renovation expert, she has written for a number of homes titles. She has renovated a terrace and is at the end of the DIY renovation and extension of her Edwardian cottage. She is now looking for her next project.
Get the Homebuilding & Renovating Newsletter
Bring your dream home to life with expert advice, how-to guides and design inspiration, direct to your inbox.
Thank you for signing up to Homebuilding. You will receive a verification email shortly.
There was a problem. Please refresh the page and try again.