How to protect your heat pump from theft
With thefts of heat pumps on the rise, we've asked experts their advice what we should all be doing to protect our heat pumps — and external boilers — from being stolen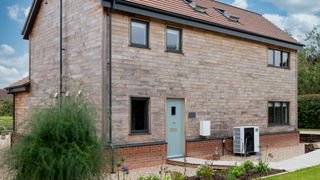 (Image credit: Jeremy Phillips)
How can you protect your heat pump from theft when the tech must sit on the exterior of a property? This is a growing question amongst homeowners with air source heat pumps (ASHPs) after a surge in reported thefts of the heating source.
And with households increasingly switching to the renewable, more environmentally-friendly technology, it is likely that families could encounter this problem more and more.
Here we explain the best ways to prevent and minimise the risk of your heat pump being stolen in order to keep your investment secure.
How many ASHPs are being stolen?
A rising number of individuals are coming forward to claim their heat pump was stolen, claims Nicholas Brown, Lead Account Manager at the Datacompany Construction, a company which specialises in technology to stop heat pump thefts.
In addition to this in the last month, Brown claims three building firms have lost 12 ASHP's between them, which are believed to have been stolen. Brown stated there is a growing sentiment amongst builders that this is the start of many more to come.
In addition to this, the number of thefts is concealed as Brown claims the majority of landlords underwrite their own theft, so the number of heat pumps or even external boilers stolen never reaches the stats, so the actual number is difficult to quantify.
However, Bean Beanland, Director for Growth & External Affairs for the Heat Pump Federation (HBF) stated that ASHP's are prime targets for criminals as he claimed: "This isn't a new problem, but it is a growing problem."
Why are heat pumps being stolen?
Unsurprisingly, money is the motivator for the rise in thefts, but how do criminals make money from this?
Installing an ASHP can cost in the thousands, but there have been some instances where heat pumps have been resold for amounts of up to £5,000, with some actually taking them to reinstall them into other properties.
Shockingly, the main culprits revealed to be for the thefts, according to Datacompany Construction, are unscrupulous installers. An estimated 85% of thefts are inside jobs from dodgy installers who are paid to do the work before then going back and uninstalling the pumps.
Their research also shows that due to a shortage of heat pump installers, there has been a growing number of cowboy installers who see heat pumps as an opportunity to make twice the money they normally would, and due to the growing demand for heat pumps, thieves can sell on stolen heat pumps faster than before.
However, reinstallations can sometimes be difficult, and according to Nicholas Brown in most circumstances the heat pumps are sold for scrap value which can garner up to £1500 in an 8kwh unit as heat pumps have nickel alloy parts inside, a valuable material.
Brown also stated that there is a limited risk of the criminals being caught as "the burden of proof is on the Police" and it is difficult to prove such crimes.
How are heat pumps being stolen?
What heightens the risk with ASHPs is the fact that they are plainly visible and for people with the know-how, taking them is fairly simple.
Nicholas Brown claims thieves simply have to wait until owners leave their homes, and as the ASHP is outside no break-ins are necessary and uninstalling can be completed in less than 3 minutes before being loaded up onto a truck.
Brown added: "It's a mistake to assume the thieves are ignorant of the workings of the unit, we see pipes capped off and electrical connections blocked off, the thieves are often capable installers."
Will insurers cover heat pump thefts?
With the chance of thefts increasing, many will be wondering if they are covered, or can be covered by their insurance providers... however many will be left disappointed.
Many home insurers will find their heat pump is not covered by home content insurance providers and, for those that are, some will find their home insurance premiums rise if you raise a claim for a heat pump theft.
Homebuilding & Renovating revealed earlier this year that of the six major insurance providers, Admiral, Aviva, and Saga outline in their Home Emergency cover policy documents that air source heat pumps are excluded from cover, and this extends towards thefts as well.
The likelihood of this changing is low as Helen Rolph, of insurance comparison site Quotezone.co.uk, stated that as the heat pump is outside of the home it is at an increased chance of being stolen. She added: "An insurer will need to take this into account when analysing risk and calculating the premium."
Ryan Fulthorpe, home insurance expert at Go. Compare, highlighted that failing to declare your heat pump to your insurers could have extreme consequences, as he explained: "If you have any eco measures installed midway through an insurance term, you must inform your insurance provider. Failing to do so could lead to your home insurance being invalidated."
Cages used to protect ASHPs
Heat pump cages, or heat pump guards, are used to try protect heat pumps from theft.
They are normally made from tough materials such as steel or aluminium and can be fitted to any sized ASHP. The cages can also be fitted with latches to allow easy authorised access for maintenance.
The cages can also protect from other dangers such as weather conditions, water damage, falling debris, or contact with animals.
They can also hide your heat pump or even enhance the look of your home with many designs suited to the style of a variety of homes.
Bean Beanland explained how some "Housing Associations protect their units in cages secured to the concrete base" which "can deter criminals to counteract the problem," although he admits most heat pumps are bolted down, but this doesn't provide "massive security".
Nicholas Brown stated that even with the cage this will not slow down thieves as a simple angle grinder will cut through cages in little time, and cages could even further highlight the presence of an ASHP, as he added: "Having an overt solution (cage) is not enough."
Other solutions to protecting your heat pump
Other methods have been suggested to prevent ASHP thefts ranging from preventative measures to deterrents to criminals.
Phil Nichols, head of home underwriting at insurer Policy Expert, said: "Steps such as installing heat pumps out of sight wherever possible, or setting up home security cameras, can help mitigate the risk of theft."
Nicholas Brown claimed his company's solution "have the best tool" for stopping ASHP thefts. Datatag from The Data Company installs a transponder in your ASHP which can only be viewed by the customer and the police and covers the lifetime of the heat pump.
This means if there is a theft it can be traced and cannot be disabled by the criminal like regular trackers. The Data Company provide this service all over UK and Ireland and claim they have received positive responses with regard to stopping the theft of ASHPs which has also been applied to gas boiler thefts.
Alternatively, Bean Beanland suggested: "If people are concerned the better option is to put in ground source heat pumps as there is nothing to steal as the pipework is all underground and all the heat pumps are inside the building."
Although this would be more expensive, Beanland claimed it's "also more secure".
Get the Homebuilding & Renovating Newsletter
Bring your dream home to life with expert advice, how-to guides and design inspiration, direct to your inbox.
News Editor Joseph has previously written for Today's Media and Chambers & Partners, focusing on news for conveyancers and industry professionals. Joseph has just started his own self build project, building his own home on his family's farm with planning permission for a timber frame, three-bedroom house in a one-acre field. The foundation work has already begun and he hopes to have the home built in the next year. Prior to this he renovated his family's home as well as doing several DIY projects, including installing a shower, building sheds, and livestock fences and shelters for the farm's animals. Outside of homebuilding, Joseph loves rugby and has written for Rugby World, the world's largest rugby magazine.
Get the Homebuilding & Renovating Newsletter
Bring your dream home to life with expert advice, how-to guides and design inspiration, direct to your inbox.
Thank you for signing up to Homebuilding. You will receive a verification email shortly.
There was a problem. Please refresh the page and try again.