House asking prices fall despite rise in demand as mortgage costs take their toll
Here's what you need to know about house prices if you're thinking of buying or selling in 2023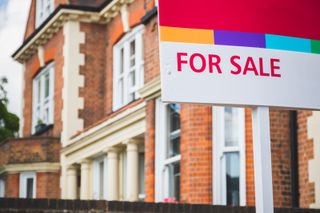 (Image credit: Getty Images)
The average house asking prices has fallen by 0.2% in July due to a declining market, partly caused by the rise in the Bank of England (BoE) base rate increase, according to the Rightmove House Price Index (HPI) for July.
The average property coming to market now is £371,907 as buyers struggle to finance property purchases due to limited mortgage options.
This follows Halifax's findings for June that showed house prices continued to show negative growth for the third consecutive month.
The HM Land Registry (HMLR) data also showed that the average UK house price growth rate for April 2023 was significantly below the peak annual inflation of 14.2% in July 2022.
'How much is my house worth' will, of course, be at the forefront of all homeowner's minds— here's what you need to know about house prices in the UK.
House asking prices decline despite high demand
The average property price has fallen by 0.2% (£905) in July, according to the Rightmove HPI.
This follows data from Halifax's June HPI which revealed that year-on-year house prices have shown a declining trend with a fall of 2.6%.
The recent Base Rate increases, aimed at curbing persistent inflation, have had an impact, with the number of agreed sales now 12% lower than in a more typical market in 2019.
However, it has been revealed that buyer demand has actually shown a 3% increase from 2019 in Rightmove's data.
Tim Bannister Rightmove's Director of Property Science stated: "The continuing twists and turns of persistent inflation and higher mortgage rates have posed some additional challenges for the market.
"Agents report that some movers are pausing until there is more certainty that mortgage rates have stabilised, as well as reviewing how higher costs affect their plans."
House asking price decline blamed on interest rate rises
Rising interest rates and comparatively buoyant markets a year ago have been blamed for the annual declines in house prices.
Kim Kinnaird, Director, Halifax Mortgages, said: "The housing market remains sensitive to volatility in borrowing costs. Concerns about persistent inflation have led to a significant increase in the cost of funding. Coupled with base rate rising by another 50bp, this contributed to a big jump in typical mortgage rates over the last month."
She added that the brief upturn witnessed in the housing market during the first quarter of this year has faded with higher interest rates gradually affecting household budgets, particularly for those with fixed-rate mortgage deals coming to an end.
Commenting on the figures, Robert Gardner, Nationwide's Chief Economist, said: "The sharp increase in borrowing costs is likely to exert a significant drag on housing market activity in the near term. For example, for a representative first-time buyer earning the average wage and buying the typical property with a 20% deposit, mortgage payments as a share of take-home pay are now well above the long-run average."
These factors, coupled with cooling demand as evidenced by industry figures on mortgage approvals and completed transactions, are expected to exert further downward pressure on house prices.
Tim Bannister Rightmove's director of property science said: "Average new seller asking prices, the first and leading indicator of new trends in the market, have dropped slightly this month, signalling that the belated spring price bounce has quickly turned into an earlier than usual summer slowdown."
Will house prices rise or fall in 2023?
Latest Subscription Offer
Experts predict that this trend of falling asking prices will continue throughout the year, following the typical seasonal pattern.
Rightmove forecasts an overall 2% annual drop in average asking prices for new sellers by the end of 2023 as asking prices are set to fall in line with the usual seasonal pattern.
Tim Bannister said: "We expect asking prices to edge down during the second half of the year which is the normal seasonal pattern, and while we sometimes re-forecast our expectations for annual price changes at this time, current trends suggest that our original forecast of a 2% annual drop in asking prices at the end of 2023 is still valid."
Kim Kinnaird, Director, Halifax Mortgages, stated: "How deep or persistent the downturn in house prices will be remains hard to predict. Consumer price inflation is likely to come down in the near term as energy and food prices look set to reverse their steep rises, but core inflation is clearly proving stickier than originally expected.
"With markets now forecasting a peak in Bank Rate of over 6%, the likelihood is that mortgage rates will remain higher for longer, and the squeeze on household finances will continue to put downward pressure on house prices over the coming year."
What does this mean for mortgages?
The current state of the mortgage market has created an atmosphere of uncertainty among potential homebuyers, with more changes expected in the coming week.
Prospective buyers are now taking extra precautions by checking their latest affordability, as evidenced by a substantial 53% surge in daily visits to Rightmove's Mortgage in Principle service following the unexpectedly high inflation figures.
Looking ahead, all eyes are on the upcoming inflation figures and the Bank of England's Base Rate decision, as they hold the potential to shape the future of the property market.
At present, the average rate for a 5-year fixed 85% Loan-to-Value mortgage stands at 5.20%, representing an increase from 4.56% observed just four weeks ago.
Kim Kinnaird, Director, Halifax Mortgages, said: "While there's always a lag effect when rates go up, many existing mortgage holders with variable deals or rolling off fixed rates will likely face an increase in the next year.
"The recently announced Mortgage Charter provides important reassurance that mortgage holders have a range of options if they're concerned about making repayments, and that lenders will be flexible when supporting anyone in difficulty. Extended terms, affordable repayment plans and alternative fixed rate deals are among the choices for existing borrowers seeking to mitigate the impact of higher interest rates."
What does this mean for those wanting to sell?
Despite recent significant increases in mortgage interest rates, buyer demand has actually risen, according to Rightmove's latest statistics.
Rightmove's data suggests demand for new homes has risen by 3% when compared to 2019, whilst there are 12% less properties available on the market than in 2019.
Tim Bannister claimed: "Agents report that even with market challenges, homes priced correctly in line with local market conditions are still attracting strong interest from motivated buyers keen to move.
"However, the dangers of sellers initially over-pricing and harming their prospects of finding a buyer are highlighted by the latest Rightmove research."
He also revealed that: "Properties that need a reduction in asking price are more than 10% less likely to find a buyer than those that were priced right from the start. With the chances of selling already lower due to current market conditions, initial over-pricing reduces those chances markedly further."
I'm buying/selling a house, what do I need to know?
Rightmove's data show that although properties in the largest-homes sector are still selling at a faster pace than in 2019, the average time it takes to secure a sale has increased significantly. Currently, it takes an average of 67 days to agree on a sale in this sector, nearly double the 35-day average at the same time last year.
This increase in time taken to find a buyer is most pronounced in the second-stepper properties, which now require an average of 52 days compared to 28 days last year, and first-time buyer properties, which now take 53 days, up from 35 days a year ago.
Additionally, the recent slowdown in consumer price inflation was not as significant as anticipated, leading to increased expectations for future Bank Rate increases, according to Nationwide.
Kim Kinnaird supports this view, claiming that the high consumer price inflation has caused market expectations of multiple rate increases, potentially pushing the Base Rate above 5% for the first time since 2008. As a result, fixed mortgage rates have begun to rise throughout the market.
Kinnaird stated "This will inevitably impact confidence in the housing market as both buyers and sellers adjust their expectations" and predicts "further downward pressure on house prices" will continue.
For buyers, the stamp duty cut announced within the mini-budget in September 2022 means that the threshold for stamp duty exemption in England and Northern Ireland has been lifted from £125,000 to £250,000.
For first-time buyers, who previously paid no stamp duty on the first £300,000, that figure has gone to £425,000.
Those planning on buying a house can take a look at our house viewing checklist as well as look at our guide on building surveys.
Get the Homebuilding & Renovating Newsletter
Bring your dream home to life with expert advice, how-to guides and design inspiration, direct to your inbox.
News Editor Joseph has previously written for Today's Media and Chambers & Partners, focusing on news for conveyancers and industry professionals. Joseph has just started his own self build project, building his own home on his family's farm with planning permission for a timber frame, three-bedroom house in a one-acre field. The foundation work has already begun and he hopes to have the home built in the next year. Prior to this he renovated his family's home as well as doing several DIY projects, including installing a shower, building sheds, and livestock fences and shelters for the farm's animals. Outside of homebuilding, Joseph loves rugby and has written for Rugby World, the world's largest rugby magazine.
Get the Homebuilding & Renovating Newsletter
Bring your dream home to life with expert advice, how-to guides and design inspiration, direct to your inbox.
Thank you for signing up to Homebuilding. You will receive a verification email shortly.
There was a problem. Please refresh the page and try again.