Heat Training Grant launched to increase the number of heat pump installers
The scheme offers £500 discounts on heating engineering courses in a bid to boost the number of installers and increase the roll-out of heat pumps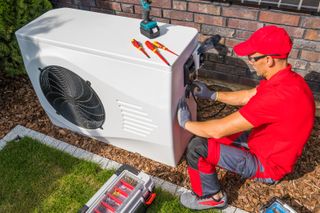 (Image credit: Getty)
The government is committing £5 million towards increasing the number of heat pump installers in the UK through a new Heat Training Grant.
The Heat Training Grant will provide aspiring heat pump installers with £500 discounts on the costs on engineering courses.
The decision has come after there was found to be a lack of air source heat pump engineers, which was found to be limiting the switchover to the more energy-efficient heating system.
Heat Training Grant a boost to heat pump sector
The government has announced an initiative to address the growing demand for heat pump engineers by offering grants to train new installers.
The move is being seen as a recognition from the government of the lack of heat pump installers in the UK to help the transition to more energy-efficient heating systems.
The grants will aim to incentivise individuals and organisations to engage in training programs focused on heat pump engineering. The grants will cover a significant portion of the training costs, making it more accessible for aspiring engineers to acquire the necessary skills and qualifications.
Charlotte Lee, CEO of the Heat Pump Association, said:  "We welcome the launch of the Heat Training Grant and are pleased to see training providers across the country, including HPA members, being included in the first funding round.
"Creating a large, highly skilled heat pump installer base is essential for expanding heat pump rollout in the UK and is a priority for the Association and its members." 
Grant aims to tackle installer shortages
The scheme is in response to the shortage of skilled engineers with only 3,000 trained heat pump engineers currently available in the UK.
Households that can afford to implement a heat pump have been told to wait for installers which has caused a backlog of installations, with Octopus Energy claiming they have a waiting list of 50,000 households interested in having an air source heat pump installation.
According to David Hilton, Homebuilding & Renovating's heating expert, the UK's lack of uptake of heat pumps can be attributed to the UK's design and installation practices not instilling confidence in consumers.
Hilton added: "Things are changing but more needs to be done to enable heat pumps as a common mainstream go-to heating solution."
How can I access the Heat Training Grant?
The Heat Training Grant enables aspiring heating engineers to receive financial support of £500 towards their training to become qualified heat pump installers.
More than 6,000 heating engineers across England will have access to this opportunity through over 60 approved training centres.
To further facilitate the training process, the government will also provide a substantial discount, making it more accessible and affordable for individuals to undergo the required training.
Effective from the launch date of July 4th, 2023, the scheme will mean that the majority of the training expenses will be covered by the government, easing the financial burden for aspiring heat pump installers.
How do I apply for the Heat Training Grant?
Applicants need to register for the Heat Training Grant offered by their chosen provider and verify their eligibility for the grant.
Upon enrolment, trainees will undergo practical training designed to meet the rigorous standards required for professional certification as installers.
Heat pump manufacturers supporting the grant too
In addition to the grants, heating manufacturers such as Baxi, Ideal Heating, NIBE, Vaillant, and Worcester Bosch have pledged their support by offering exclusive benefits to trainees participating in the Heat Training Grant.
These additional incentives include discounts, special offers, and vouchers for heating products, amounting to a potential value of up to £500.
These providers are also being encouraged by the government to offer courses designed to upskill individuals and equip them with the knowledge and expertise required for the installation and maintenance of heat networks.
Meanwhile, the Heat Training Grant Competition for heat networks has also opened today for training providers to bid for £500 discounts to train up to 4,000 new heat network professionals.
Interested training providers are urged to apply before the 8th of August 2023, enabling the availability of assistance in various regions across the country.
Mark Wilkins, Technology and Training Director at Vaillant, also commented: "We welcome the Heat Training Grant and are delighted to be supporting this important initiative with offers for additional training or support.
"One of the biggest barriers to a rapidly growing heat pump market is the availability of large numbers of skilled installers and this funding initiative is a key element to help the UK achieve our decarbonisation targets."
£30m offered to boost heat pump manufacturing
As well as improving the number of installers the government is also committing £30 million towards improving the supplies of heat pumps.
The government has launched the Heat Pump Investment Accelerator Competition which will focus funding towards the construction of new factories, expanding existing ones, and facilitating the reworking of facilities to manufacture heat pumps and their components.
The competition is open to projects throughout the UK, as participants bid for a maximum of £15 million (€15 million in Northern Ireland) of funding per scheme.
The government claim the primary objective of the competition is to establish the capacity to produce up to 270,000 heat pumps or components annually in the UK by 2028.
This scheme aims to create up to 3,000 jobs and stimulate approximately £270 million in private-sector investment within the domestic heat pump supply chain.
Lord Callanan, Minister for Energy Efficiency and Green Finance, stated:  "Heat pumps and heat networks are critical technologies for decarbonising heat - and play an important role in the country's push towards net zero. 
"With consumer demand set to surge in the coming years, we have committed to helping industry manufacture our own heat pumps and we will need thousands more expert installers ready for action. 
"This grant will not only give the rollout of heat pumps and heat networks a huge boost but will help to develop a skilled workforce who will reap the rewards of joining a thriving installer market."
Charlotte Lee, CEO of the Heat Pump Association, said:  "Manufacturers have also welcomed the opening of the Heat Pump Investment Accelerator Competition to applications.
"This funding will help build our capability and capacity for manufacturing heat pumps and key components across the UK, creating new jobs and ensuring we remain at the cutting edge of manufacturing innovation."
Get the Homebuilding & Renovating Newsletter
Bring your dream home to life with expert advice, how-to guides and design inspiration, direct to your inbox.
News Editor Joseph has previously written for Today's Media and Chambers & Partners, focusing on news for conveyancers and industry professionals. Joseph has just started his own self build project, building his own home on his family's farm with planning permission for a timber frame, three-bedroom house in a one-acre field. The foundation work has already begun and he hopes to have the home built in the next year. Prior to this he renovated his family's home as well as doing several DIY projects, including installing a shower, building sheds, and livestock fences and shelters for the farm's animals. Outside of homebuilding, Joseph loves rugby and has written for Rugby World, the world's largest rugby magazine.
Get the Homebuilding & Renovating Newsletter
Bring your dream home to life with expert advice, how-to guides and design inspiration, direct to your inbox.
Thank you for signing up to Homebuilding. You will receive a verification email shortly.
There was a problem. Please refresh the page and try again.