Flat roof extension ideas for every style of home and budget
Take a peek at our collection of stunning flat roof extension ideas – there really is something for everyone, from eco-friendly projects to those completed on a tight budget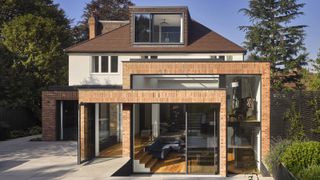 (Image credit: Will Pryce)
Flat roof extension ideas are popular for many reasons. Great for those looking to maximise internal space and often cheaper to construct than pitched roof extensions, they also offer up the scope to use a wide range of roof covering materials, from metal to green roofs.
When building an extension you will obviously have your own ideas about what you need from the new space, but speaking to an architect or designer should be really useful when it comes to exploring all the options in terms of the kinds of construction systems and designs that will best suit your home and budget.
A chat with a recommended local builder should also be able to help you get a handle on costs.
"If you engage with a builder before plans are drawn up then you can discuss structural details, groundworks and so on first. Then you can take this information to your architect and plans can be drawn up accordingly," says master builder Andy Stevens of Eclipse Property Solutions.
Which flat roof extension ideas are right for me?
Not only can flat roofs look really striking when used for an extension, they also come with a whole host of other benefits — one of them being their relatively low cost.
"Keeping the design and shape of your extension build simple — either square or rectangular shaped with a flat roof — will be less expensive than angled designs with more complicated roof structures and lots of glass," advises chartered surveyor Ian Rock.
There are several different methods of constructing a flat roof, but all should have a slight slope, despite the name.
"If flat roofs are to work well, they have to have a slope, known as a fall, to shed rainwater," says Mark Brinkley, author of the Housebuilder's Bible and an experienced builder. "The fall should never be less than 1:80 and preferably about 1:40. There are several methods of building in a fall."
Here, we share with you some of the best flat roof extensions we've seen in order to inspire you and boost your ideas for your own project.
1. Use a flat roof extension to overcome a top heavy layout
It is often the case with townhouses that they can feel a little top heavy for modern day homeowners, with ground floor spaces suitable for modern kitchen diner ideas and living areas lacking — and this is where a full-width flat roof extension can be the ideal solution, keeping first floor windows clear while adding some much needed space.
The owners of this 19th century townhouse designed an extension, with Carve Architecture, that stretches the full width of the rear of the house, keeping the old exterior rear wall intact as a feature internally.
A strip of rooflights links the extension to the original wall, while a large central rooflight, high level windows and glass doors all connect the new structure with the garden and ensure it is full of natural light.
2. Create a flat roof glass link extension to join old and new
Flat roof glass extension designs are not only the perfect way to link up old and new sections of buildings, but they can also provide really useful extra living space.
The owners of this beautiful Cotswold stone cottage originally carried out some renovation work, later extending it to meet the needs of their growing family. On meeting with architects Millar + Howard Workshop, the owners decided that rather than levelling the sloping plot they would work with it.
A flat roof glazed section now connects the original building with the extension, which was built into the existing bank — it houses a chill-out area and has great views of the garden.
3. Bring light flooding in from all angles
Even small house extension ideas can have a huge impact on the way a home can be used and its overall feel.
The owners of this Victorian terrace found it was dark inside, with little connection to the garden and a tiny galley kitchen and needed a way to make it lighter, brighter and more suitable for modern family life.
Working with AO Architecture, they created a side return extension and a flat roof contemporary full height bay at the rear, with an enormous picture window to bring light into the previously dark space and provide garden views.
4. Go full width to connect house and garden
A full-width, heavily-glazed flat roof extension is a brilliant way to bring light into dark central areas of a house.
The owners of this 1930s house were keen for a larger kitchen with a good connection to the garden so architect Harvey Norman proposed opening up the back of the house with a flat roof extension featuring three rooflights to draw in plenty of light.
Due to the width of the glazing (12m) a structural engineer specified two circular steel columns to sit behind the mullions of the glazing, with a steel lintel over the sliding doors.
5. Transform a bungalow with a small glass extension
After bungalow extension ideas? This one is proof that even relatively small extensions can make all the difference. The owner of this 1950s bungalow needed a sociable gathering area and a way of pulling in more natural light — there was also little connection to the garden.
TAP Architects were brought on board to open up the space, designing an extension to replace the old garage. The new addition is made up of a long, glazed flat roofed 'arcade' that links the main house to the new white brick 'cottage' section.
6. Be daring with an aluminium clad extension
Frustrated by the lack of connection and flow between the various areas of this 1950s detached home, the owners turned to TAP Architects to come up with a design for an extension that would make the most of the south-facing garden and help to reconfigure the layout to include a new large central kitchen.
With an aim to minimise structural alterations to the house as much as possible, the extension has been built to roughly the same footprint that was previously occupied by a conservatory and sun room at the rear.
The extension was built using a highly insulated timber frame, with blockwork walls sitting behind the striking aluminium mesh house cladding.
7. Sit a second storey atop a flat roof structure
If it is double storey extension ideas that you are after, there is still scope to include a flat roof into the design.
This old Victorian vicarage now features a two storey extension that was designed to transform the dated ground floor of the property into a spacious light-filled area with a new en suite for the master bedroom.
Adam Knibb Architects came up with a design based on a steel structure with a flat roof at ground floor level and a timber-clad second storey.
8. Wrap around a corner to open a space up
Sometimes, the biggest design challenges can result in the most striking end results — and this extension is the perfect example of that.
With a fairly compact garden, the design of the extension needed to be small enough not to overtake the outdoor space while still delivering the extra internal space required by the owners, who were keen to have a new kitchen with great connection to the outdoors.
Taking the place of an old conservatory, the flat roof extension fills in the previously wasted corner of the house and is of a simple box form, fitted with large sliding patio doors in a heritage steel frame style.
9. Open up a garden flat with a glazed extension
Where a sensitive approach is required, a light touch is often the best route — and a flat roof glass extension usually fulfils the brief.
The owners of this beautiful Victorian sandstone ground and basement garden apartment were after modern extension ideas that would be deemed acceptable in the conservation area is is located.
With a brief for a light, open plan kitchen, a new utility space and a dining area, the architects, McInnes Gardner Architects, also came up with a scheme that would bring light into the core of the duplex.
The design for the kitchen extension was based on a glass link, featuring a wall of sliding glass doors, inserted into a steel frame structure.
10. Clad it in zinc for a contemporary look
A flat roof extension can be the perfect way to extend a bungalow while maximising views.
When the owners of this Cornish property purchased it, they were keen to create a contemporary home with far-reaching sea views.
The owner/architect had planned on replacing an old conservatory with a zinc 'box' fitted with a sweeping gull-wing roof, but the planners had other ideas so a flat roof design has been used instead.
This meant the roof height could be pushed upwards, allowing for an oriel window to be included above.
11. Combine aluminium sliding doors with grey cladding
A flat roof extension, designed and project managed by E Francis Architects, has provided the owners with a large new open plan kitchen, dining and family room.
The new extension runs the full width of the rear of the house and incorporates an older extension which was not working for the homeowners. The flat roof, single storey extension enjoys a raised ceiling and full height glazing meaning it now has a fantastic connection with the garden as well as being flooded with natural light — something the house was lacking previously.
The extension has been finished off with grey Equitone fibre cement cladding which perfectly complements the power coated aluminium sliding doors.
12. Vary the heights of your flat roof extension
There is no reason why a flat roof extension has to be the same height throughout — in fact some of the most eye-catching designs use varying roof heights.
The extension of this 1930s house, designed by Mulroy Architects, not only features an abundance of glass in order for the homeowners to enjoy views over their rear garden, but also houses a spacious new living space.
The house had been extended unsympathetically in the past so these older extensions were removed before a sunken area was carved out within the new extension to allow the ceiling to be raised — resulting in a double height space internally.
Get the Homebuilding & Renovating Newsletter
Bring your dream home to life with expert advice, how-to guides and design inspiration, direct to your inbox.
Natasha is Homebuilding & Renovating's Associate Editor and has been a member of the team for over two decades. An experienced journalist and renovation expert, she has written for a number of homes titles. She has renovated a terrace and is at the end of the DIY renovation and extension of her Edwardian cottage. She is now looking for her next project.
Get the Homebuilding & Renovating Newsletter
Bring your dream home to life with expert advice, how-to guides and design inspiration, direct to your inbox.
Thank you for signing up to Homebuilding. You will receive a verification email shortly.
There was a problem. Please refresh the page and try again.