Elon Musk's Tesla set to become electricity provider in the UK
Following the launch of 'Tesla Electric' it has been revealed that the company owned by one of the world's richest men, Elon Musk, is aiming to muscle in on the UK energy sector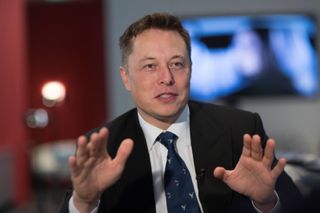 (Image credit: Getty)
Elon Musk's Tesla is set to revolutionise the energy market in Britain by introducing a new household supplier.
The renowned electric car manufacturer, known for its energy supply ventures in the United States, has outlined its intention to offer electricity to residences and establish "virtual power plants."
This development was revealed in a recent job posting by Tesla Electric. Tesla Electric was launched to supply power to households with Tesla products like cars or batteries in a bid to reduce fossil fuels from the world economy and offer homeowners further gas boiler alternatives.
Job advert signals Tesla Electric's UK ambitions
The advert for a 'Head of Operations, Tesla Electric - Retail Energy' was posted on the job application site, which showed Tesla's intention to move into the UK energy market.
The post on LinkenIn said: "As part of Tesla's mission to accelerate the transition to sustainable energy we have launched Tesla Electric. Tesla Electric is Tesla's retail electricity offering, currently available to Tesla product owners in selected markets globally," and is aiming to hire someone to "support the transition of the entire electricity grid to 100% renewables."

It continues: "In this role you will have operational responsibility for our retail electricity activities in the UK. This includes responsibility for managing our market entry, and building out the team, systems and processes needed to start operations. After start of commercial activities, you will have ultimate responsibility for day to day operations.
"We seek candidates with demonstrated experience in delivering retail energy programs and with a healthy skepticism of the status quo."
Tesla aiming to provide help to avoid high-priced peaks
It is believed that Tesla is considering assisting customers who own a Tesla Powerwall battery, solar panels, or one of their electric vehicles in storing electricity during periods of low cost and selling it back to the grid when market prices are higher.
This approach aims to help households avoid high-priced peaks when renewable energy is scarce and enable the grid to reduce its reliance on fossil fuels by maximising the use of renewable electricity.
Tesla initially introduced its household supply offerings in Texas towards the end of last year with customers who purchased a Model 3 car between May and June being granted a year of complimentary overnight vehicle charging at home by signing up with Tesla Electric as their retail electricity provider.
Following the initial year, drivers would transition to Tesla's standard overnight charging rate of $1 per day.
Potential plans to build large-scale battery storage projects in UK
Three years ago, Tesla made its initial entry into the British market by submitting an application to the energy regulator to become an electricity generator. In June 2020, Ofgem granted Tesla the necessary license.
Obtaining a generation license also enables Tesla to gather customers nationwide and after establishing a virtual power plant in the UK.
It is estimated that around 10,000 to 20,000 units have now already been installed in UK households and it is understood that Tesla's goal is to directly provide electricity to households, placing a specific emphasis on individuals who own the latest Tesla 'Powerwall' home battery.
Plans to 'eliminate fossil fuels' from world economy
Recently Tesla unveiled a comprehensive "master plan" with the aim of "eliminating fossil fuels" from the global economy.
According to Tesla's report, a sustainable energy economy is not only "technically feasible" but also requires comparatively "less investment" when compared to the existing energy consumption of the worldwide economy.
However, this target relies on the widespread adoption of electrification and intelligent energy storage technologies.
The company advocates for a revolution against the fossil fuel industry, acknowledging that implementing a carbon tax, which is politically challenging, would be vital in achieving this objective.
Get the Homebuilding & Renovating Newsletter
Bring your dream home to life with expert advice, how-to guides and design inspiration, direct to your inbox.
News Editor Joseph has previously written for Today's Media and Chambers & Partners, focusing on news for conveyancers and industry professionals. Joseph has just started his own self build project, building his own home on his family's farm with planning permission for a timber frame, three-bedroom house in a one-acre field. The foundation work has already begun and he hopes to have the home built in the next year. Prior to this he renovated his family's home as well as doing several DIY projects, including installing a shower, building sheds, and livestock fences and shelters for the farm's animals. Outside of homebuilding, Joseph loves rugby and has written for Rugby World, the world's largest rugby magazine.
Get the Homebuilding & Renovating Newsletter
Bring your dream home to life with expert advice, how-to guides and design inspiration, direct to your inbox.
Thank you for signing up to Homebuilding. You will receive a verification email shortly.
There was a problem. Please refresh the page and try again.