Councils using Article 4 to block bungalow extensions 'to protect the elderly'
Article 4 legislation is being used by some councils to preserve the supply of bungalows due to increasingly limited supplies for the increasing elderly populations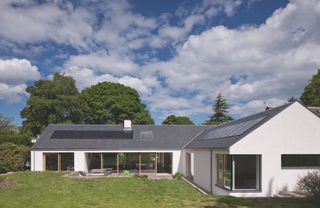 (Image credit: David Barbour)
Article 4 restrictions have been placed on extending bungalows in an effort to safeguard housing options for the elderly.
Although the government introduced new rules in August 2020 that permit homeowners to vertically expand single-story properties without requiring planning permission, certain councils such as Epping Forest and Hertsmere Borough have introduced protective measures to prevent such extensions.
The objective behind these Article 4 "protections" is claimed to be to limit the number of conversions and preserve the availability of single-story homes for older individuals who may face difficulties with stairs.
What is the Article 4 Direction?
An Article 4 Direction is a planning tool used in the UK to restrict certain permitted development rights within a specific area.
The Article 4 Direction can be implemented by the local authority to withdraw or modify permitted development rights for specific types of development within a designated area.
The purpose of an Article 4 Direction is to enable the local authority to exert greater control over development within sensitive or protected areas, such as conservation areas or areas of outstanding natural beauty.
When an Article 4 Direction is issued, property owners within the designated area will need to apply for planning permission for the specified types of development.
It is issued by the local planning authority under Article 4 of the Town and Country Planning (General Permitted Development) Order 2015 and these Article 4 Directions and specific restrictions can vary between local authorities.
Councils using Article 4 to block bungalow expansions
Two local authorities, Hertsmere and Epping Forest, have used the Article 4 Directive to block the removal and renovation of bungalows due to the needs of the elder population.
In March, Epping Forest implemented restrictions as part of its local plan, expressing its intention to preserve bungalows and specialist accommodation due to the demand for accessible housing and the gradual decline of existing bungalow stock within the district.
Similarly in May, Hertsmere revoked homeowners' ability to carry out specific modifications to bungalows in Radlett without obtaining prior planning permission.
The decision was motivated by the council's recognition of the importance of addressing the requirements of an ageing population in its neighbourhood development plans.
These protective measures implemented by the councils may potentially impede younger families, who are increasingly purchasing bungalows, from converting them, even in light of the government's regulations aimed at facilitating development.
Ageing population and decline in bungalows
The 2021 Census results indicate a continued ageing of the population in England and Wales compared to the 2011 census.
The number of individuals aged 65 years and above has risen from 9.2 million in 2011 to over 11 million in 2021.
Regarding property types, government figures show as of March 31, 2021, there were approximately 2.46 million bungalows, showing no significant change compared to the previous year. The difference in numbers was a mere 4,460 properties, representing a minimal percentage change of 0.2%.
Looking back to April 1, 1993, there were 0.5 million properties consisting of bungalows, flats/maisonettes, and houses with an unknown number of bedrooms. However, by March 31, 2021, this figure had decreased to 0.2 million properties.
Bungalows rising in value
Recent data indicates a growing demand for bungalows, accompanied by a limited supply has resulted in the prices of bungalows increasing, making it even harder for the elderly.
Knight Frank, the estate agency, has reported a significant rise in the number of individuals registering to sell their homes for downsizing purposes. This upward trend has continued, with a notable one-third increase observed in the previous year.
Moreover, the average price of bungalows in Britain showed a considerable surge. In the 12 months leading up to May 2021, the average price stood at £298,230. However, by May 2023, it had risen to £349,127, marking a notable 17% increase. This price escalation can be attributed to the combination of high demand and limited supply in the market.
In comparison, house values experienced a 13% growth, reaching £362,915, while flats saw a more modest increase of 5%, with prices reaching £281,526, during the same time period.
"Bungalows remain scarce, making up less than 10% of the total new listings of houses, flats and bungalows in the year to May 2023," claimed Chris Druce, senior research analyst at Knight Frank.
These findings could result in other councils following suit in using Article 4 to block single-storey extensions for bungalows.
Get the Homebuilding & Renovating Newsletter
Bring your dream home to life with expert advice, how-to guides and design inspiration, direct to your inbox.
News Editor Joseph has previously written for Today's Media and Chambers & Partners, focusing on news for conveyancers and industry professionals. Joseph has just started his own self build project, building his own home on his family's farm with planning permission for a timber frame, three-bedroom house in a one-acre field. The foundation work has already begun and he hopes to have the home built in the next year. Prior to this he renovated his family's home as well as doing several DIY projects, including installing a shower, building sheds, and livestock fences and shelters for the farm's animals. Outside of homebuilding, Joseph loves rugby and has written for Rugby World, the world's largest rugby magazine.
Get the Homebuilding & Renovating Newsletter
Bring your dream home to life with expert advice, how-to guides and design inspiration, direct to your inbox.
Thank you for signing up to Homebuilding. You will receive a verification email shortly.
There was a problem. Please refresh the page and try again.