The 6 best mitre saws to help with your next DIY project
The best mitre saws are a versatile tool for home improvement projects, which offer highly accurate cutting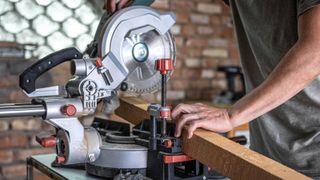 (Image credit: Getty Images)
The best mitre saws, sometimes called chop saws, are an invaluable addition to your tool shed. They can be used to simply cut in an efficient, highly accurate way, or cut mitres and bevels to create angled joins.
Largely mitre saws are used for timber, but many saws can also cut plastic and metal, sometimes requiring a separate blade, sometimes not.
Mitre saws are often used for decorative DIY timber elements around the home, including trim, skirting boards and beading, but they're also a great choice for making the cuts required for laying a laminate or wood floor. They're also the optimal tool if you're learning how to lay decking.
If you're considering adding a mitre saw to your tool shed, take a look at our pick of five of the best available right now.
Quick links to the best mitre saw deals
You can trust Homebuilding & Renovating. Our expert reviewers spend hours testing and comparing products and materials in order to help you choose the best for your home and garden. Find out more about how we test.
---
The best mitre saws: Watch our video guide (after the ads)
---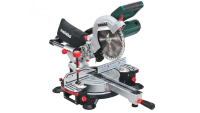 Metabo Sliding Compound Crosscut Mitre Saw | £200.95 NOW £159 (SAVE £41.95) at FFX
A quality corded mitre saw with dust extraction, handles for transport and integrated table extensions which are detachable for better material support.
Has a cutting depth of up to 65mm, making it odeal for most DIY projects.
The best mitre saws for your next DIY project
1. Makita LS003GD202 mitre saw
A heavy duty pro level mitre saw
Specifications
Battery:
40Vmax XGT Lithium-Ion battery
Reasons to buy
+
Shadow light makes lining up cuts simple
+
Dust collection is pretty good
+
Bluetooth connectivity to compatible dust extractors
+
Rail-forward design allows the rear of the machine to be placed close to a wall
Reasons to avoid
-
Accuracy out of the box isn't perfect
-
It's heavy and not the easiest to move around
-
Blade change feels like it's designed for people with more than two hands
The LS003GD202 is a large-size 305mm sliding compound mite saw powered by 40Vmax XGT Li-Ion batteries and equipped with a brushless motor that provides consistently smooth cutting. But this is definitely a model for serious DIYers who need a mitre saw on a regular basis.
The 305mm blade and up to 382mm crosscut capacity comes at a cost – the saw weighs a hefty 31.1 kg with a battery installed. And, with overall dimensions of 898 mm x 690 mm x 725 mm (L x W x H), despite it being battery powered, it isn't exactly the easiest saw to move around.

Buy the Makita LS003GD202 mitre saw today
---
2. Ryobi EMS190DC 18V ONE+ Mitre Saw
The best mitre saw - cordless and budget-friendly
Reasons to buy
+
Cordless
+
Light-weight
+
Laser guide
Reasons to avoid
-
No sliding mechanism limits use
-
Requires extra purchase of batteries
Ryobi is one of the go-to names for cordless tools, and a cordless mitre saw at this price point is a great find. Cable length is a huge bugbear when using a mitre saw, so going cordless can free you from the clutches of extension cables, especially great if you're working in a large room or across a bigger renovation project.
The saw blade is fixed, not on a sliding mechanism, which means that you can only cut widths of material up to 108mm straight (and less on a mitre), so keep this in mind when deciding on your mitre saw, as some larger skirting boards, for example, can be taller than this.
As with any corded power tool of this nature, the battery isn't going to last a hugely long time, so it's always best to invest in two to ensure you've got one charging while using the other.
Buy the Ryobi EMS190DC 18V ONE+ Mitre Saw
---
3. Evolution R255SMS 240V 255mm Sliding Mitre Saw
Packs in plenty of features for the price
Reasons to buy
+
Sliding
+
Laser guide
+
Ambidextrous handle
Reasons to avoid
-
Smaller cable
-
Difficult to store
This is another budget-friendly mitre saw, and with the features the Evolution R255SMS packs in, it offers great value for money.
The large cross cut span, the slide-mounted blade and the laser guide all help to make this tool work harder for you, and will help greatly increase the variety of projects you can use it for.
There are a few things to watch out for with this mitre saw, however. The integrated clamps are somewhat awkward to use, slowing down the cutting process, and you may be better served to invest in some stand-alone clamps where required. The two metre cable is fine, but a more generous cord would help for use on a larger site without the need for extension leads.
Buy the Evolution R255SMS 240V 255mm Sliding Mitre Saw
---
4. Makita LS0714LN 190mm Slide Compound Mitre Saw 240v
The professionals' pick for a sliding mitre saw
Reasons to buy
+
Adjustable feet and arms to stabilise
+
Laser guide
+
Lighter, more compact design
There's a reason why this Makita tool is favoured by professional carpenters — it's super light compared to many mitre saws on the market, making it easy to transport, carry on site and store. With a piece of equipment that's often big and bulky, this isn't something to overlook.
Of course, Makita is a mid-to-premium range, so it has some brilliant features too, including the laser guide and dual-mitre head, meaning you can cut mitres on both sides of the blade. The ball-bearing rail mechanism also promises a smooth, precision cut when using the sliding function.
The adjustable arms are a great feature too, allowing for much more support to long timbers than many makes and models available, while the feet can also be adjusted easily to help stabilise the saw when in use.
Of course, the Makita LS0714LN comes with a price tag to reflect this, so may only be a suitable pick for those using the tool more consistently, or with deeper pockets.
Buy the Makita LS0714LN 190mm Slide Compound Mitre Saw
---
5. Evolution FURY6 210 Multi-Purpose Mitre/Table Saw
Integrates a table saw for extra function
Reasons to buy
+
Multi-functional
+
Cuts wood, metal and plastic with one blade
This mitre saw that doubles up as a table saw is a clever design, making it very well-suited to DIYers.
The table saw adds extra functionality and it's brilliant for helping get a great finish on small interior decorating projects and adding versatility for timber cuts a mitre saw just can't achieve.
The Evolution FURY6 uses the same technology that allows the brand's tools to cut metal, plastic and timber all with the same saw blade. However, as it's a fixed saw blade, not mounted on a slider, it has quite a short maximum cut, more than 50% less than many sliding mitre saws.
It's still great for most projects, including skirting boards and mouldings, so don't overlook a fixed mitre saw if these are the only jobs you need to tackle with it.
Buy the Evolution FURY6 210 Multi-Purpose Mitre/Table Saw
---
6. Draper Precision Hand Mitre Saw
A sturdy manual mitre saw
Reasons to buy
+
Budget-friendly
+
Easy-to-use
Reasons to avoid
-
Not as quick as a power tool
If power tools aren't your thing, or you only need a mitre saw for one small job, a manual mitre saw might be the answer.
This sturdy buy from Draper is a good mid-level mitre saw that will last, and make light work of cutting timber, even if it does require a bit more elbow grease than an electric mitre saw.
One added benefit is that a manual mitre saw will likely cut to a much larger depth than a power mitre saw, and the Draper Precision hand mitre saw can cut to heights of 100mm. This allows it to cut bevels, but it's unlikely to be large enough for use cutting exterior corners for skirting boards.
Buy Draper Precision Hand Mitre Saw
---
What to look for when buying a mitre saw
Consider these factors when browsing the best mitre saws to ensure your product of choice is best suited to your requirements.
Power
As with most power tools, if you're buying for use in your own home, powered by your mains electricity, you'll need to make sure you buy the 240V version, not the 110V, as this will require a transformer to operate directly off mains power.
Laser guide
When it comes to features, check if a mitre saw has a laser guide for accurate cutting. Without this, you'll find it harder to cut to your ink line initially, until you get a sense of how to level the blade through experience.
Sliding or fixed head?
A sliding mitre saw is usually beneficial over a fixed saw head, as it means you'll be able to cut to much larger widths. These are however larger, making them harder to store, and heavier, which can be an issue for transporting them.
Integrated clamps
Most mitre saws include integrated clamps to hold down your material, ensuring you can use them safely without having to put your hands near the blade. When cutting long lengths of timber, these may not be strong enough to keep your timber balanced and your cut accurate, so consider investing in extra clamps or having an extra pair of hands help out when cutting.
Range set
When it comes to cutting a mitre, many mitre saws have a range set between 0° and 45° — usually that's all that's required. There are likely to be several pre-selected angles that the saw will click to for cutting a mitre. Look for the one with the largest range.
More best buys for your tool shed
Bulk up your tool kit further by exploring the best cordless drills - an essential item for any DIYer - as well as the best orbital sanders and best reciprocating saws.
Get the Homebuilding & Renovating Newsletter
Bring your dream home to life with expert advice, how-to guides and design inspiration, direct to your inbox.
Hugh is Deputy Editor of sister title Livingetc.com and former Digital Editor of homebuilding.co.uk. He has worked on a range of home, design and property magazines, including Grand Designs, Essential Kitchens, Bathrooms, Bedrooms and Good Homes. Hugh has developed a passion for modern architecture and green homes, and moonlights as an interior designer, having designed and managed projects ranging from single rooms to whole house renovations and large extensions. He's currently renovating his own Victorian terrace in Essex, DIYing as much of the work as possible. He's recently finished his kitchen renovation, which involved knocking through walls, and landscaping a courtyard garden, and is currently working on a bathroom renovation.
Get the Homebuilding & Renovating Newsletter
Bring your dream home to life with expert advice, how-to guides and design inspiration, direct to your inbox.
Thank you for signing up to Homebuilding. You will receive a verification email shortly.
There was a problem. Please refresh the page and try again.